Lexington Project Connect
Saturday, March 7, 2020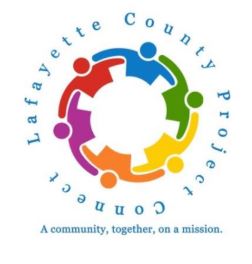 A one-day public health service event for adults. For the uninsured and underserved in the area. There is NO COST for most services received at this event.

This event is being organized by the Health Care Collaborative of Rural Missouri, local Service Providers, businesses, civic groups, churches and citizens in this area.
Volunteers, Service Providers, and Sponsors are needed. Please e-mail Chris at HCC chris.carney@hccnetwork.org or call (660) 251-0751 for more information.
Volunteer and Service Provider Application

Saturay, March 7, 2020, 9:00 am to 2:00 pm held at:
Lexington 4 Life Center, 811 S Hwy 13, Lexington, MO 64067
ANTICIPATED SERVICE INFORMATION BOOTHS AND ENROLLMENT OPPORTUNITIES:
• SNAP/EBT Enrollment
• ACA & Medicaid Enrollment, Dental and Behavioral Health Screenings (Live Well Community Health Centers)
• Home State Health
• Baby Grace and Women's Resource Center
• Vocational Rehabilitation and DMV
• WIC and Nutritional Education
• VA Resources/Veteran's Resources
• Lafayette County Health Department
• Nursing and In-Home Care/Services
• Missouri Valley Community Action
• West-Central Independent Living Solutions

EXAMPLE OF POSSIBLE SERVICES PROVIDED—ALL SERVICES ARE FREE (except for mammograms):
• Dental Extractions
• Behavioral health screenings and help
• Height, weight, blood pressure check, etc.
• Immunizations voucher, (good for 14 days)
• Hair-cuts and smoke detectors sign-ups
• Birth/death certificate voucher, (good for 14-days)
• Vision and hearing screenings
• MO Driver's License & photo ID voucher, (good for 14 days)
• Pregnancy tests and Women's resources
• Medicare assistance and Medicaid help
• Many other resources!
• Lunch, snacks, drinks and LOTS of extras!
For more information, please contact the Health Care Collaborative of Rural MO (660) 259-2440.