Welcome to Odessa Upper Elementary!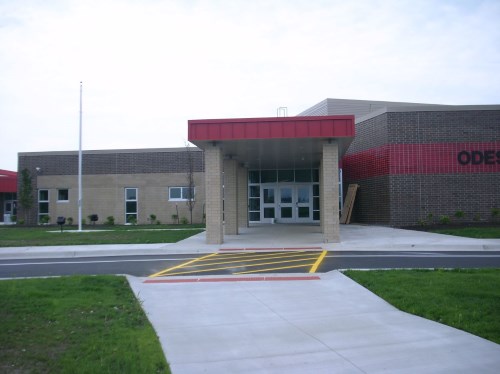 ODESSA UPPER ELEMENTARY
1100 W. Cox School Rd, Odessa, MO 64076
Phone: 816-633-5396 Fax: 816-633-4299
Principal: Chris Doering

Admin Intern/PC: Amanda Smith

Secretary:

Lorrie Sanders

Counselor:

Annette Robinson

Secretary: Tori Purifoy
Outreach Worker

: Andi Phillips
Odessa Upper Elementary Bulletin
The mission of OUE is to teach students to become responsible learners.
"Be Somebody Who Makes Everybody Feel Like a Somebody"
Go Bulldogs!
Arrival/Dismissal Times
7:20 am – Supervision Begins/Cafeteria opens
7:45 am – School begins
2:15 pm – Car rider pick-up lane opens
2:52 pm- School dismisses
*Early release day dismissal @ 12:10 pm
Pledge Leaders : * Please send Pledge Leaders to the office by 7:50 am
-Monday 04/12: Snow-Swan
-Tuesday 04/13: Jones
-Wednesday 04/14: Young
-Thursday 04/15: Stark
- Friday 04/16: Tate
Please click the link below to view today's menu options
https://odessa.nutrislice.com/menu/odessa-upper-elementary
Looking
Ahead
April
04/01: Yearbook Order Forms are DUE
04/02-04/05: Easter Break, No School
04/14: OUE Team Rep Meeting @3:05pm
04/16: DARE Graduation
04/23: OUE Top Dog Due
4/23: 4th Quarter Midterm Cutoff
4/26: 4th Quarter Grades Due
4/28: Midterm Report to Students
04/28: OUE Faculty Meeting @3:05pm
BIRTHDAYS
April 12th-18th
04/12 Samantha Wolfe 4th Grade,Young
04/13 Lillian Morgan 3rd Grade, Stark
04/13 Andrew Smith 3rd Grade, Bainbridge
04/14 Colton Durrill 4th Grade, Zarda
04/14 Jonah Durrill 4th Grade, Young
04/14 Sawyer Johnson 5th Grade, Jenkins
04/14 Clayton Morris 4th Grade, Zarda
04/14 London Rowland 3rd Grade, Williams
04/16 Braden Freiberger 5th Grade, Cockrum
04/16 Finley Parker 4th Grade, Zarda
04/17 Joseph Jarrett 3rd Grade, Bainbridge
04/17 Makayla Manring 3rd Grade, Crawford
The "Birthday Cart" will be coming around EVERY Monday to deliver a special birthday surprise to students after the morning announcements.