Welcome to Odessa Upper Elementary!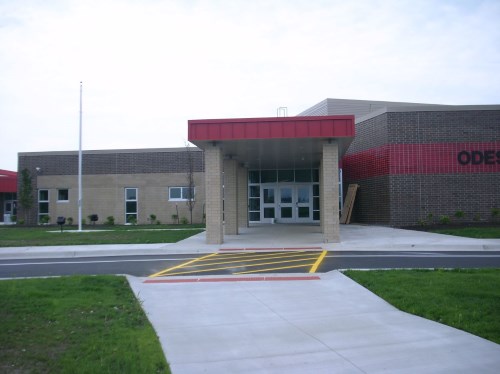 ODESSA UPPER ELEMENTARY
1100 W. Cox School Rd, Odessa, MO 64076
Phone: 816-633-5396 Fax: 816-633-4299
Principal: Buffie McConville
Secretary:

Lorrie Sanders

Counselor:

Annette Robinson

Secretary: Wendy Ray
Outreach Worker

: Andi Phillips
Odessa Upper Elementary Bulletin
The mission of OUE is to teach students to become responsible learners
March 9 to March 13, 2020
Daily Information
7:20 am - Supervision Begins / Cafeteria Opens for Breakfast (please keep car drop off lane clear of parked cars prior to 7:10 a.m.)
7:25 am - Student Arrival Begins (car riders should report directly to the gym or cafeteria upon arrival).
7:50 am - Instruction Time Begins
2:00 pm - Car Rider Pick-up Lane Opens
2:35 pm - School Dismissal (* Early Release Day Dismissal @

11:20 am)
Pledge Leaders: *Please send pledge leaders to the office by 7:50 a.m.
Monday: Cockrum
Tuesday: Oetinger
Wednesday: Klawuhn

Thursday

:

Hagerty

Friday: Smith
Lunch Menu: Click Here for Link to

OPAA LUNCH MENU
Monday: #1 Grilled Cheese Sandwich, #2 Frito Pie, #3 Peanut Butter and Jelly Sandwich, #4 Salad
Tuesday: #1 BBQ Rib on Bun, #2 Ham and Cheese Calzone, #3 Popcorn Chicken Munchable, #4 Salad
Wednesday: #1 Chicken Patty, #2 Roast Turkey w/ Gravy, #3 Ham and Cheese Roll Up, #4 Salad
Thursday:

#1 Chicken Nuggets, #2 Ham and Cheese Sandwich, #4 Salad

Friday: #1 Cheese Pizza, #2 Popcorn Chicken Wrap, #3 Pizza Munchable, #4 Salad
Dates of Interest:
Spring Showcase evening -our first annual book exchange.
We are asking for gently used / almost new books to be donated.There is a cart outside the library door by third grade. Students can come put their donated books on that cart.
YEARBOOKS FOR SALE!!! (order forms are in the office if needed)
March 2 - Chess Club

March 3 - AM Math Tutoring

- Eye Spy

- Good News Club

- STUCO

March 4 - Chess Club

March 5 - AM Math Tutoring
- Big Read
- Eye Spy

March 6 - Honor Choir (AM)

March 9

- PTO Meeting

March 10 - AM Math Tutoring

- Eye Spy

- Good News Club

March 11 - Faculty Meeting

March 12 - AM Math Tutoring

- Spring Pictures

-

Eye Spy

- Dough for School

March 13 - PTO Treat Day

March 17 - AM Math Tutoring
- 3rd Grade Field Trip (Discovery Center)
- Eye Spy
- Good News Club
March 18 - 3rd Grade Field Trip (Discovery Center)
March 19 - AM Math Tutoring

- Early Release 11:20

- OUE Showcase Night

March 20 - 24 - No School (Spring Break)
March 25 - School Resumes
- Junior Art League
March 26 - AM Math Tutoring
- 4th Grade Field Trip (Fort Osage)
-Eye Spy
- Good News Club
March 27 - Honor Choir (AM)
- 4th Grade Field Trip (Fort Osage)
March 31 - AM Math Tutoring
- Eye Spy (End of session party)
- Good News Club