Welcome to Odessa Upper Elementary!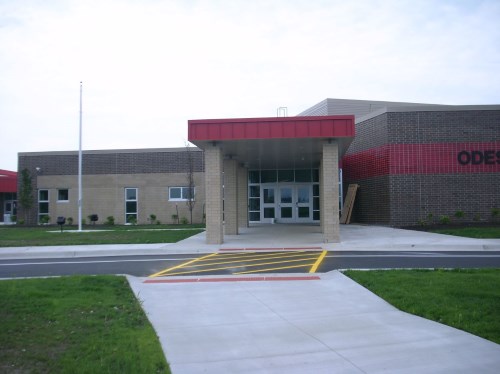 ODESSA UPPER ELEMENTARY
1100 W. Cox School Rd, Odessa, MO 64076
Phone: 816-633-5396 Fax: 816-633-4299
Principal: Buffie McConville
Secretary:

Lorrie Sanders

Counselor:

Annette Robinson

Secretary: Wendy Ray
Outreach Worker

: Andi Phillips
Odessa Upper Elementary Bulletin
The mission of OUE is to teach students to become responsible learners
Tuesday, September 25, 2018
Daily Information
Instruction time begins promptly at 7:50 a.m. daily. If your child is not eating breakfast and is a car rider or walker, then they should not arrive on school premises before 7:25 a.m. Supervision is not provided prior to 7:20 a.m. Upon their arrival, students should report directly to the gym. However, for those students eating breakfast, the cafeteria will be open at 7:20 a.m. Please keep the drop off lane clear of parked cars prior to 7:10 a.m.
School dismisses daily at 2:35 p.m. Car rider pick-up lane opens at 2:00 p.m.
Early release dismissal is at 11:20 a.m.
Lunch Menu:
Monday:

#1 chicken and Waffles, #2 Mozzarella Dunkers, #3 Popcorn Chicken Munchable

Tuesday

:

#1 Hot Dog on Bun, #2 Sloppy Joe, #3 Ham and Cheese Roll Up
Wednesday: #1 Chicken Patty, #2 Roast Pork, #3 Peanut Butter and Jelly Sandwich
Thursday: #1 Super Nachos, #2 Pork Tacos, #3 Pizza Munchable

Friday: #1 Corn Dog, Chicken Nachos w/ white Cheese, #3 Peanut Butter and Jelly Sandwich
Staff Special:
Beginning in October we will be offering some new options for meals throughout the week. We will be adding a baked potato bar on Monday's, A taco salad on Thursday and a soup and salad on Friday's. I will place signup sheets in the teachers lounge or you may call or email to let us know that you would like to be added to our count. We look forward to seeing you at lunch!
Pledge Leaders: *Please send pledge leaders to the office by 7:50 a.m.
Monday:

Crawford

Tuesday:

Carter
Wednesday: Brown
Thursday: Langewisch
Friday: Hotmer
Dates of Interest:.
September 25th

- Good News Club

September 27th - 3rd Grade Vision Make Up

- Big Read

September 28th - Active Shooter Training (No School-Staff PD Day)

October 2nd - 3rd Grade Field Trip (Young and Stark)

-Activities Club
-Good News Club
-Honor Choir
-STUCO

October 3rd - 3rd Grade Field Trip (Crawford and Langewisch)

October 4th - 3rd Grade Field Trip ( Snow, Bainbridge, and Smith)

October 5th - Early Release - Home Coming

October 8th - Theatre Troupe
October 9th - Activities Club
-Good News Club
-Honor Choir
October 10th - Theatre Troupe
October 11th - Big Read

October 12th - End First Quarter

October 15th - Theatre Troupe

October 16th - Parent/Teacher Conference 4-7pm

Report Cards go home

October 17th - Theatre Troupe

October 18th - Early Release

-Parent/Teacher Conference 3- 7pm

October 19th - No School

October 22nd - Theater Troupe

October 23rd - Activities Club

-Good News Club

-Honor Choir

October 24th - Junior Art League

-Theatre Troupe

October 25th - Big Read

October 26th - Halloween Party

October 29th - Theater Troupe

October 30th - Activities Club

-Good News Club

-Honor Choir