Welcome to Odessa Upper Elementary!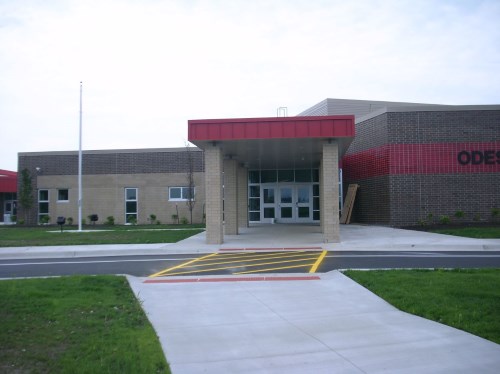 ODESSA UPPER ELEMENTARY
1100 W. Cox School Rd, Odessa, MO 64076
Phone: 816-633-5396 Fax: 816-633-4299
Principal: Buffie McConville
Secretary:

Lorrie Sanders

Counselor:

Annette Robinson

Secretary: Wendy Ray
Outreach Worker

: Andi Phillips
Odessa Upper Elementary Bulletin
The mission of OUE is to teach students to become responsible learners
Thursday, April 18, 2019
Daily Information
Instruction time begins promptly at 7:50 a.m. daily. If your child is not eating breakfast and is a car rider or walker, the they
should not arrive on school premises before 7:25 a.m. Supervision is not provided prior to 7:20 a.m. Upon their arrival,
students should report directly to the gym. However, for those students eating breakfast, the cafeteria will be open at 7:20 a.m.
Please Keep the drop off lane clear of parked cars prior to 7:10 a.m.
School dismisses daily at 2:35 p.m. Car rider pick-up lane opens at 2:00 p.m.
Early release dismissal is at 11:20 a.m.
Pledge Leaders: *Please send pledge leaders to the office by 7:50 a.m.
Monday: Babb
Tuesday: Armstrong
Wednesday: Crawford
Thursday: Carter
Friday: No School ( Good Friday)
Lunch Menu:
Monday: #1 Chicken Nachos, #2 Corn Dog, #3 Peanut Butter and Jelly Sandwich
Tuesday: #1 Meatball Sub, #2 BBQ Beef on Bun, #3 Popcorn Chicken Munchable
Wednesday: #1 Chicken Patty, #2 Baked Ham, #3 Ham and Cheese Roll Up
Thursday: #1 Popcorn Chicken, #2 Hamburger Mac and Cheese, #3 Pizza Munchable
Friday: No School
Sixteenth Annual Foundation Gala and Hall of Fame
The Odessa R-VII Public Foundation Board of Directors cordially invite all patrons and staff members to attend the Sixteenth Annual Foundation Gala
and Hall of Fame Induction on Saturday, April 6, 2019, at the Odessa Middle School Gymnasium, beginning at 5:00 p.m. (Social Period) and 6:00 p.m.
(Dinner and Hall of Fame Induction).
The 2018-2019 Hall of Fame Inductees honoring health care professionals: Wayne Boydston, M.D. and Catherine Boydston, M.D. (Memorial); Beth (Watkins) Frost, D.O.; Jerry Haney, D.D.S.; Burney Miller, M.D. and Nancy Miller, R.N., and Max Starns, R.Ph. and Elizabeth Starns (Memorial). This year's theme is "A Caring Commitment."
Gala tickets are available at $40.00 (each) and may be purchased at the Central Administrative Office.
Dates of Interest:
April 2

- Good News Club

- Honor Choir

- STUCO

April 4 - Big Read

April 8 - PTO Meeting 6:00 pm

April 9 - Good News Club

- Honor Choir

April 12 - No School (PD Day)

April 16 - Good News Club

- Honor Choir

April 17 - Junior Art League

- Major Saver Assembly 1:45 pm

April 18 - Funnel Cake Truck (4th Grade Only)

April 19 - 22 Easter Break

April 23 - May 15 Map Testing

- Good News Club

- Honor Choir

April 24 - 3rd Grade Field Trip (Union Station)

April 25 - PTO Meeting 6:00 pm

April 26 - 3rd Grade Field Trip (Union Station)

April 30 -Breakfast w/ Mom

- Randy Nadler

- Fine Arts Night

- Good News Club

- Honor Choir