Welcome to Odessa Upper Elementary!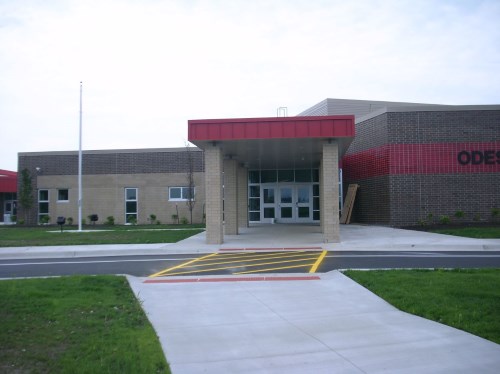 ODESSA UPPER ELEMENTARY
1100 W. Cox School Rd, Odessa, MO 64076
Phone: 816-633-5396 Fax: 816-633-4299
Principal: Debbie Schweikert
Secretary:

Lorrie Sanders

Counselor:

Annette Robinson

Secretary: Wendy Ray
Outreach Worker

: Andi Phillips
Odessa Upper Elementary Bulletin
The mission of OUE is to teach students to become responsible learners.
August 23rd, 2017
Daily Information:
Instruction time begins promptly at 7:50 a.m. daily. If your child is not eating breakfast and is a car rider or walker, then they should not arrive on school premises before 7:25 a.m. Supervision is not provided prior to 7:20 a.m. Upon their arrival, students should report directly to the gym. However, for those students eating breakfast, the cafeteria will be open at 7:20 a.m. Please keep the drop off lane clear of parked cars prior to 7:10 a.m.
School dismisses daily at 2:35 p.m. Car rider pick-up lane opens at 2:00 p.m.
Early release dismissal is at 11:20 a.m.
Reminders:
Back to School Packet information is due asap.
Menu:
Wednesday: #1 Chicken Patty, #2 Roast Pork w/ Mashed Potatoes, #3 Peanut Butter and Jelly Sandwich w/ Cheese Stick.
Thursday: #1 Chicken Nuggets w/ Italian Bread, #2 Hamburger Mac and Cheese w/ Italian Bread, #3 Pizza Munchables.
Friday: #1 Cheese Pizza, #2 Parmesan Chicken Sandwich, #3 Peanut Butter and Jelly Sandwich w/ Yogurt.
Pledge Leaders:
Wednesday: Jordon Ailor, Gage Carpenter, Ivory Chaney - Brown
Thursday: Charlye Adams, Haiven Alexander, Carson Bromley - Crawford
Friday: Silas Bass, Colton Bradley, Gracie Fisher - Jiron
*Please send pledge leaders to the office by 7:50 a.m.
Student Dates of Interest:
August 23rd - OUE Fall Pictures

August 24th - Tornado Drill - 2:00 p.m.

August 29th - Lockdown Drill - 8:30 a.m.

September 1st - Early Release - 11:20 a.m.

September 4th - NO SCHOOL - Labor Day

September 5th - STUCO - 2:45 p.m.

-Honor Choir - 2:45 p.m.

-Theater Troupe - 2:45 p.m.

-Good News Club - 2:45 p.m.

September 7th - Big Read - 2:45 p.m.

September 8th - Mid Term of 1st Quarter

September 11th - Theater Troupe

September 12th - Honor Choir - 2:45 p.m.

-Good News Club - 2:45 p.m.

September 13th - OUE PTO Fall Fundraiser Begins

September 14th - 4th Grade Field Trip to Fort Osage

September 15th - 4th Grade Field Trip to Fort Osage

- 3rd Grade Vision Screening

September 18th - Theater Troupe - 2:45 p.m.

September 19th - Honor choir - 2:45 p.m.

- Good News Club - 2:45 p.m.

September 21st - Big Read - 2:45 p.m.

September 22nd - Early Release - 11:20 a.m.

- HOMECOMING

September 25th - Theater Troupe - 2:45 p.m.

September 26th - Honor Choir - 2:45 p.m.

September 28th - OUE PTO Fall Fundraiser Ends

September 29th - NO SCHOOL