Welcome to Odessa Upper Elementary!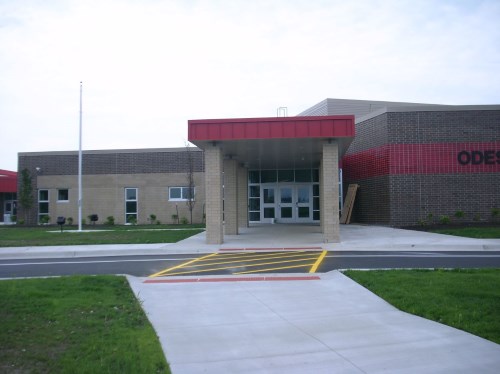 ODESSA UPPER ELEMENTARY
1100 W. Cox School Rd, Odessa, MO 64076
Phone: 816-633-5396 Fax: 816-633-4299
Principal: Buffie McConville
Secretary:

Lorrie Sanders

Counselor:

Annette Robinson

Secretary: Wendy Ray
Outreach Worker

: Andi Phillips
Odessa Upper Elementary Bulletin
The mission of OUE is to teach students to become responsible learners
January 13 to January 17, 2020
Daily Information
Instruction time begins promptly at 7:50 a.m. daily. If your child is not eating breakfast and is a car rider or walker, the they
should not arrive on school premises before 7:25 a.m. Supervision is not provided prior to 7:20 a.m. Upon their arrival,
students should report directly to the gym. However, for those students eating breakfast, the cafeteria will be open at 7:20 a.m.
Please Keep the drop off lane clear of parked cars prior to 7:10 a.m.
School dismisses daily at 2:35 p.m. Car rider pick-up lane opens at 2:00 p.m.
Early release dismissal is at 11:20 a.m.
Pledge Leaders: *Please send pledge leaders to the office by 7:50 a.m.
Monday: Jiron
Tuesday:

Cockrum

Wednesday: Oetinger

Thursday

:

Klawuhn

Friday: Hagerty
Lunch Menu: Click Here for Link to

OPAA LUNCH MENU
Monday:
Tuesday: #1 Grilled Cheese Sandwich, #2 Chili, #3 Peanut Butter and Jelly Sandwich, #4 Mandarin Orange Chicken Salad
Wednesday:

#1 Chicken Patty, #2 Macaroni and Cheese, #3 Ham and Cheese Roll Up, #4 Strawberry Chicken Salad

Thursday:

#1 Chicken Nuggets, #2 Ham and Cheese Sandwich, #3 Pizza Munchable, #4 Taco Salad

Friday:

#1 Cheese Pizza, #2 Meatball Sub, #3 Nacho Munchable, #4 Chicken Bacon Ranch Salad
Dates of Interest:
January 7 - School Resumes

- AM Math Tutoring

- Good News Club

- STUCO

January 8 - Grade Reports go home

January 9 - AM Math Tutoring

- Dough for School

January 10 - Honor Choir-No

Rehearsal

January 13 - Chess Club

- PTO Meeting

January 14 - AM Math Club

- Good News Club

January 15 - Chess Club

January 16 - AM Math Club

January 17 - Honor Choir

- Lock down Drill 8:00 am

January 20 - No School - Martin Luther King Jr Day

January 21 - AM Math Tutoring

- Good News Club

January 22 - Tornado Drill 8:00 am
- Chess Club
January 23 - AM Math Tutoring
January 24 - Honor Choir- No Rehearsal
January 27 - Chess Club
January 28 - AM Math Tutoring
- Good News Club

January 29 - Chess Club

January 30 - AM Math Tutoring

- Winter Games 5-7:00 pm

January 31 - Honor Choir

- Evacuation Drill 8:00 am