Welcome to Odessa Upper Elementary!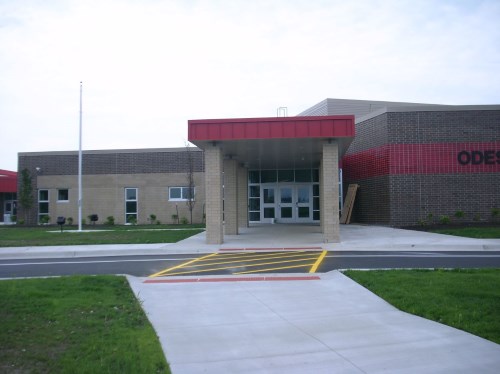 ODESSA UPPER ELEMENTARY
1100 W. Cox School Rd, Odessa, MO 64076
Phone: 816-633-5396 Fax: 816-633-4299
Principal: Debbie Schweikert
Secretary:

Lorrie Sanders

Counselor:

Annette Robinson

Secretary: Wendy Ray
Outreach Worker

: Andi Phillips
Odessa Upper Elementary Bulletin
The mission of OUE is to teach students to become responsible learners
Friday, April 20, 2018
Daily Information:
Instruction time begins promptly at 7:50 a.m. daily. If your child is not eating breakfast and is a car rider or walker, then they should not arrive on school premises before 7:25 a.m. Supervision is not provided prior to 7:20 a.m. Upon their arrival, students should report directly to the gym. However, for those students eating breakfast, the cafeteria will be open at 7:20 a.m. Please keep the drop off lane clear of parked cars prior to 7:10 a.m.
School dismisses daily at 2:35 p.m. Car rider pick-up lane opens at 2:00 p.m.
Early release dismissal is at 11:20 a.m.
Reminders:
Parents need to notify office with after school arrangements. NOT Teachers
Menu:
Friday: #1 Cheese Pizza, #2 Roasted Chicken Sandwich, #3 Nacho Munchable
Monday: #1 Spaghetti and Meatballs w/ Italian Bread, #2 Turkey and Cheese Sandwich, #3 Popcorn Chicken Munchable
Tuesday: #1 Grilled Cheese Sandwich, #2 BBQ Pork on Bun, #3 Ham and Cheese Roll up
Wednesday: #1 Chicken Patty, #2 Roast Turkey w/ Gravy, #3 Peanut Butter and Jelly Sandwich w/ Cheese Stick
Thursday: #1 Cheeseburger, #2 Grilled Ham and Cheese, #3 Pizza Munchable
Pledge Leaders:
Friday: Rebekah Thurston - (Carter) Serenity Woodall - (Stark)
Monday: Jacob Tate, Jason Thomas - Carter
Tuesday: Hannah Todd, Brenna Westerhold - Jones
Wednesday: Ayden Brigandi, One (1) who did not get to do the Pledge (Cockrum)
Thursday: Lily Walkup, Payton Westerhold (Jiron)
*Please send pledge leaders to the office by 7:50 a.m.
Student Dates of Interest:.
April 16th - May 11th MAP Testing
April 20th - Spring Fling 3:45 pm OMS
- Mid-term Reports go home
April 23rd - Activities Club 2:45 pm
April 24th - Honor Choir 2:45 pm
- Good News Club 2:45 pm
April 26th -

OUE PTO Meeting 6:00 pm

- Book Fair Begins

April 27th - STUCO Elections

April 30th - OUE Fine Arts Night 5:00 pm