ODESSA R-VII FOUNDATION GRANT RECIPIENTS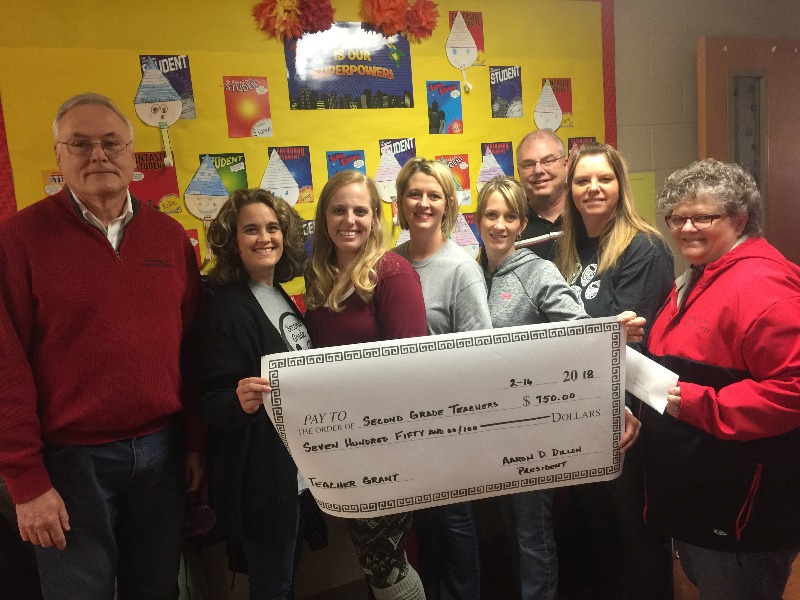 McQuerry Second Grade Teachers Presented By Foundation Board Members Pete Rorvig and Tahnami Gittinger.
The Odessa R-VII Public Foundation Board of Directors presented teacher grants on Friday, February 16, 2018. Seventeen grant applications were approved. Grants (totaling $11,550.00) were distributed to the following staff members by the Odessa R-VII Foundation Board of Directors.
Congratulations to the following recipients:​
McQuerry Elementary
Stacy Begemann

(Transforming Non-Readers into Bookworms)

$750.00
Tami Grubb and Kindergarten Teachers

(Kindergarten STEM Activities)

$750.00
Matt Klamm

(Slackline Balance Unit)

$750.00
Wendy Reynolds

(Technology for Pre-Kindergarten Classroom)

$750.00
Herb Schell

(Chromebook Nook)

$750.00
Second Grade Teachers

(Science is Super in Second Grade)

$750.00
Jackie Vochatzer/Kasey Kelmel

(Stepping into STEM)

$750.00
Wendy Courtway/Jennifer Smith/Beth Wagner

(Helping the Summertime Reading Slump!)

$750.00
Odessa Upper Elementary
Jill Langwisch

(Bringing Technology into Reading)

$750.00
Annette Robinson

(Help, My Senses are on Overload!)

$750.00
Odessa Middle School
Angela Gregson

(Alternative Seating Choices)

$650.00
Amanda Pierce/Chris Herring

(Steps to a Healthier You)

$750.00
Katherine Shroyer

(Audiobooks in the Classroom)

$750.00
Rebecca Westmoreland
(Crazy for Chromebooks)
$750.00
Odessa High School
Barie Krewson/Lindsay Schambers

(Senior Project Creative Design – Cricut)

$400.00
Crisa Seals

(Accessible Technology for Struggling Readers and Writers)

$750.00

Foundation Teacher Grant Memorial to Sherry L. Billings in the amount of $1,000.00, was awarded at the Foundation Gala on April 7, 2018, to OMS Librarian, Susan Lefman.