SURPLUS PROPERTY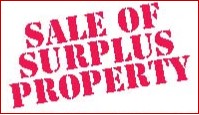 The Odessa R-VII School District will be taking bids on "Surplus Materials" on Tuesday, July 18, 2017 from 8:00 am until 2:00 pm. Surplus materials will be located at Odessa R-VII Maintenance Building located behind the Vocational Arts Building at 713 South Third Street, Odessa, Missouri 64076 (please see the attached list and note that quantities may change without notification).
Bidding: Property may be inspected on July 18, 2017, from 8:00 am – 2:00 pm and sealed bids will be taken immediately that day. Successful bidders will be notified on or before Thursday, July 20, 2017, of award. (Bidders are cautioned to closely inspect materials as the Odessa R-VII School District is not responsible to provide any guarantees for physical condition, workmanship, satisfactory operation, or provide any liability).
Removal: Property must be removed on Friday, July 22, 2017, between the hours of 8:00 am – 2:00 pm and successful bidders will be responsible for loading of merchandise.
Payment: Full payment must be made at the time of pick-up. The district will accept cash, money orders, cashier check, certified check, and personal or business check. No out of state check accepted (checks payable to: Odessa R-VII School District).