Major Savers Campaign 2018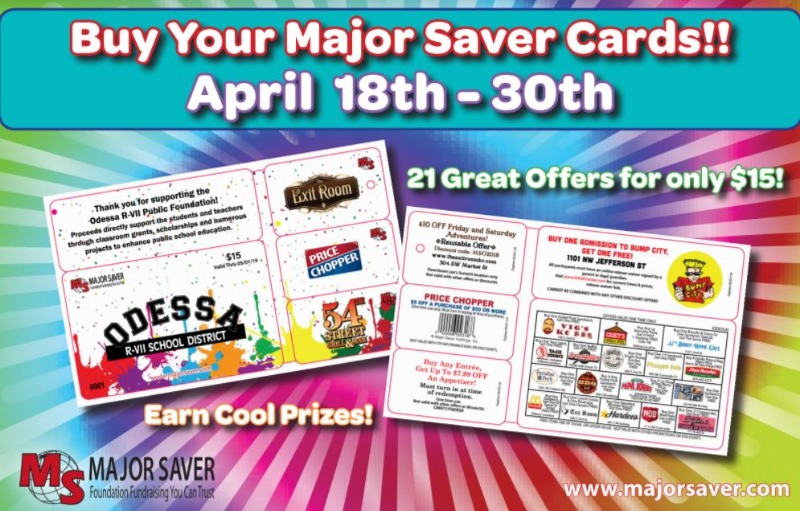 SMALL CARD, BIG RESULTS
2018 Odessa Major Saver Campaign
The Odessa R-VII Public Foundation is once again offering Major Saver cards for sale through the Odessa Elementary Schools and the Middle School. Students will receive sales packets starting Wednesday, April 18th. Students will be selling the $15 discount cards until Monday, April 30th. Proceeds from the sale of Major Saver cards directly support the participating schools and the Odessa R-VII Public Foundation. Last year, the Foundation and schools raised over $9,000 through the sale of the Major Saver cards. The sale of these cards helped to award a total of $11,550.00 in teacher grants as well as scholarships for graduating seniors.

Elementary and middle school students will be selling $15 cards with 20 Buy-One-Get-One Free offers starting Wednesday, April 18th through Monday, April 30th.. These exceptional offers include savings at the following establishments: The Exit Room, Price Chopper, 54th Street, Bump City, Vig's BBQ, Casey's, JJ's Café, Taco John's, Iron Skillet, Odessa Creamery, Planet Sub, Papa Murhpy's, Paradise Park, KC BBQ, Papa John's, T and T's, McDonald's, Tea Room, Hardee's, MOD Pizza, & Kyla's Cakes N' Bakes.
Major Saver cards can be purchased via cash, check or online at www.majorsaver.com. The online sale can be credited back to a particular student and school. All cards purchased online will be mailed directly to the customer.
Major Saver is excited to roll out a new feature this year making online sales easier for friends and family! On our homepage you are able to enter your student's information to create a CUSTOM LINK for your child that can be shared via social media or email. This link will automatically credit the online sale to your student when friends and family use the link to make their purchase!
Major Saver cards can also be purchased, and credited to a student, through the Major Saver App. Once the free app is downloaded to an Android or iOS device, buyers can choose a Major Saver card through the "buy cards" tab on the app. Once the buyer completes the transaction the offers will be stored in the Major Saver App. Buyers can then redeem offers directly from the app and do not need a physical card.
Major Saver stresses safe selling and discourages door to door campaigning. The company encourages students to sell to family members, church patrons, neighbors, or other adults the family may know; and to always make sure their parents are involved.
Please consider purchasing a Major Saver card from an Odessa student. The proceeds from these sales will benefit the participating schools and the Odessa R-VII Public Foundation.
Thank you for your continued support!